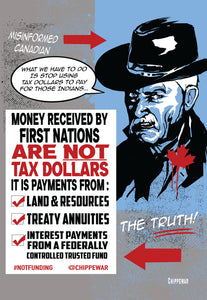 By Jay Soule | CHIPPEWAR

Limited Edition 13x19 Print
Signed & Numbered
First Edition 1-50
 STRATEGICALLY MISINFORMED

This work references CHIPPEWAR's previous billboard campaigns in Toronto.

Due to strategic misinformation provided by the Government, Canadians believe that tax dollars fund Indigenous communities. However, payments owed to Indigenous peoples are treaty annuities and interest from a federally controlled trust fund, worth over two trillion dollars, intended as payment for the use of stolen land and resources.

By using strategic villainizing language such as, "we are going to increase funding to First Nations communities for housing", the Government gives the perception that the money comes from tax dollars, which perpetuates harmful stereotypes and further feeds into discrimination towards Indigenous peoples.