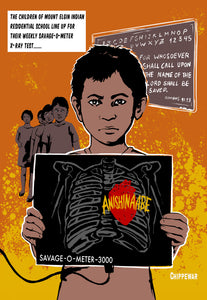 By Jay Soule | CHIPPEWAR

Limited Edition 13x19 Print
Signed & Numbered
First Edition 1-50
 SAVAGE-O-METRE

CHIPPEWAR imagines a process to which Indigenous children might have been subjected at child concentration camps (residential schools). The Savage-O-Metre technology would detect if the child was broken from their culture, language and families. The children would have to line up weekly so the Savage-O-Metre could determine if the process of assimilation was working.
Despite their efforts, the boy's heart still reads Anishinaabe.
The United Nations defines this as GENOCIDE.