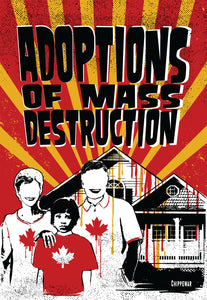 ADOPTIONS OF MASS DESTRUCTION

By Jay Soule | CHIPPEWAR
Limited Edition 13x19 Print
Signed & Numbered
First Edition 1-50
ADOPTIONS OF MASS DESTRUCTION

The Canadian Government deliberately tore Indigenous children away from their families and adopted them into primarily non-Indigenous homes, in what is known as the Sixties Scoop. CHIPPEWAR was a child within this system.

From the mid-1950s to the 1980s Canada forced assimilative tactics onto Indigenous children, instead of assisting Indigenous communities and families with proper resources. The Government was completely aware of the fact that 'scooping-up' the children would contribute to the loss of culture, language, community ties, and the mass destruction of Indigenous families. Staggering numbers of Indigenous children are still over-represented in the child welfare system today.

The United Nations defines this as GENOCIDE.